Thoughts From Our Customers
Homes built in East Tennessee for people all across the country:
The Buhr House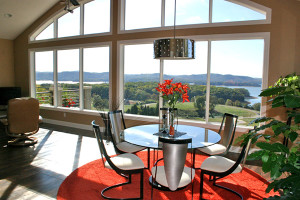 "Just in our opinion, Gust Construction is number one!! Their quality, professionalism, timeliness, and attention to detail is superb!!
Brad helped us design the home of our dreams and Chad, Scott, Cindy, and Jan, made our dream a reality. We couldn't be happier or more proud of our beautiful home on the lake."
Bill and Marcia Buhr
Jonesborough TN
The Lindsey House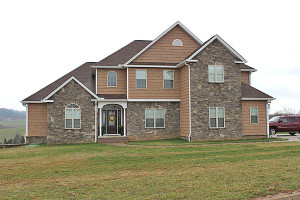 "We have been in the home for eight months and have absolutely no complaints whatsoever. The planning period went smoothly as Brad Reynolds answered all my questions quickly and thoroughly. All my ideas were considered and incorporated when possible. The construction phase was just as smooth. All teams who worked on the house were excellent craftsmen and kept the job site neat and clean. This was a professional, first-rate job from start to finish."
Dr. Brad and Kristi Lindsey
Morristown TN
The Cook House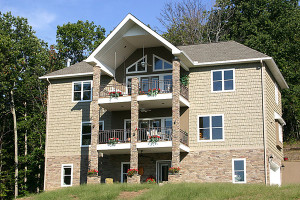 "Gust Construction, or rather the owner and staff at Gust Construction, provided an excellent experience in having our house built. From working with Brad to put my wife's custom plans into working blueprints, to working with Chad in the building process, the entire experience was outstanding. Cindy and Jan, the office administrators, kept us informed and provided feedback to concerns in time measured in minutes, not days.
The building process, quality, and details offered by Chad and Brad are nothing short of exceptional. They do not take shortcuts and are insistent on top quality in both materials and work outcome from subcontractors. At the same time, they provided cost saving suggestions and recommendation from the design until the turn-key completion of our home.
Gust Construction provides hands-on daily supervision and work throughout the building process. Their decades of experience, supported by their own honesty and work ethic, result in a house that is rock solid, beautiful, and a true pleasure to live in. We never thought that having our house built from the ground up would actually be a pleasurable experience.
My wife and I have recommended Gust Construction to our friends knowing that they will have the same enjoyable, cost effective, and quality experience that we did."
Roy and Nancy Cook
Morristown, TN
Matthews House
"I would recommend Gust Construction to anyone building."
T.D. Matthews
Dandridge TN
The Stark House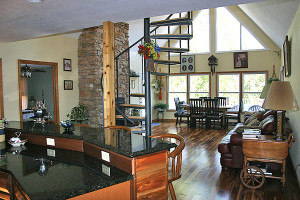 "We wanted to take this opportunity to let you all know what an absolute pleasure it has been having your company as our contractor in the planning and construction of our new home. We heard all the horror stories of contractors and construction problems from other homeowners and builders. It was such a pleasure having you folks as our builder and contractor. You made the process of building and owning a very easy process for us. Being in Asheville and having you all taking care of things up here for us gave Kay and me peace of mind. We have recommended you to anyone who would ask us about our experience with Gust Construction and crews. Once again thank you for all your help and expertise, you made what could have been a hard job easy."
Milton and Kay Stark
Asheville, NC
The Silvers House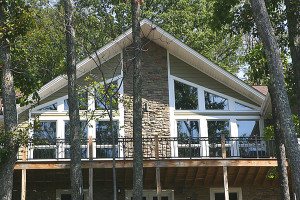 "Just a note to tell you how appreciative David and I are. We are truly blessed to have found you as our builder, more importantly, to call you our friend."
David and Ellen Silvers
Chantilly VA
The Brooks House
"It is with great pleasure that we write this letter of recommendation for Gust Construction Company. We interviewed many builders in the local area over the ten-year period prior to building but always came back to you and your team as our benchmark for excellence. Your reputation for the highest quality work is well known and appreciated in the community! It has been about six months since we moved into our jewel and we wanted to let you know how happy and truly pleased we are with our home. As you know, we had a strong vision that combined old world charm with modern convenience. You and your team exceeded expectations and in fact, we felt that everyone that worked on this project from conception to final completion took a personal interest in making our vision come true. We are not only satisfied but happy to recommend you and your company to all new clients."
Ray and Londa Brooks
Warrenton VA
The Crea House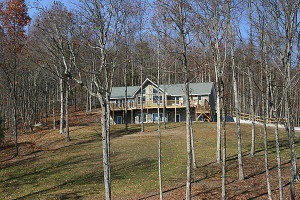 "My wife Sylvia and I moved to Tennessee from Northern Virginia. The task of selecting an honest, trustworthy and quality builder from afar was of paramount concern to us. We found our experience with Chad Gust to exceed those concerns. Chad is indeed a very honest, dependable, and trustworthy builder. His very timely and responsive work ethic coupled with a constant strive for perfection in every aspect of this project was consistent and greatly attributed to the production of an excellent quality home. We are very pleased to have selected Chad to build our home and would very highly recommend him to any potential customers."
Nick and Sylvia Crea
Amisscille VA
The Westlund House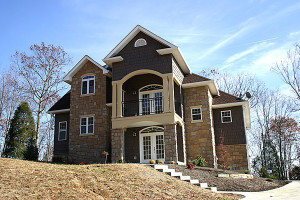 "I found Chad Gust to be a high energy individual with an eye for detail and a great pride in the quality of his workmanship. Building long-distance has the potential of becoming a nightmare. Working with Chad was like a dream. I can honestly recommend Chad to anyone looking for a contractor in East Tennessee and would not hesitate to have him as my contractor again."
Sharon Westlund
Port Orange FL
The Slovin House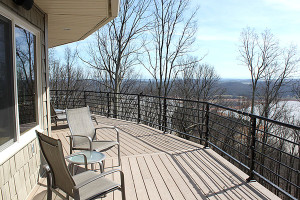 "The finished house turned out exactly as we had envisioned it. The suggestions Chad provided, based on his years of experience, were invaluable. He paid as much attention to detail in the construction phase of the stuff you don't see as he did to the finish work.
It is difficult to find an individual with more integrity than Chad Gust. He is absolutely trustworthy and stands behind his product. He personally responds to and follows up on any concern you have about your new home even after you have taken occupancy. He has earned a sterling reputation within our community."
Howard & Judith Slovin
Pembrook Pines FL
The Lipply House
"If ever there were a perfect house, we have it! It ever there were a perfect builder, it's you! We can't say enough about you Chad and the way you run your business with honesty, integrity, and the highest of standards. We had lots of choices and talked with quite a few builders before we decided and none of them gave us the peace and confidence that we got from you and your staff. Our house is amazing and we wouldn't change a thing; it's everything we wanted and more. Thank you for all your hard work, attention to detail, and for not only meeting our expectations but exceeding them!"
Bob and Donna Lipply
Tarpon Springs FL
The McClam House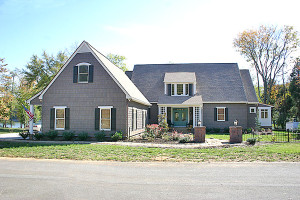 "Jennifer and I wanted to let you know how much we appreciate your commitment to building a quality home. We purchased our lot in Chelaque Estates seven years ago as I was approaching retirement with plans to build our retirement home. We spent many hours looking at house plans for several years before settling on the Southern Living Chestnut Hill Plan. Gust Construction, quality sub-contractors, and office staff have successfully made our dream home become a reality. With Brad Reynolds' expertise and creative design ideas, an already beautiful house plan became even more functional. The modifications we wanted to make and the suggestions he made have culminated in a home that we are truly proud of and very happy to retire in. We honestly cannot think of a thing we would change. It has all come together beautifully. Everyone who visits us comments on the quality and skilled work provided in construction. The exterior siding and trim work done by Jesse Gentry is top quality. Because much of the trim work needed to be fabricated on site, the quality of work provided by Jesse and his crew is apparent. The house required a good deal of carpentry detail work inside. Your construction crew did exceptional work and met the challenge.
We always appreciated you and your crews' commitment to keeping our job site clean and orderly. When we would come in at the end of the day to look around, we were pleased to find everything left neat. This made it much easier for us to see what was being done and not have to stumble over scrap lumber, dodge exposed nails and track through piles of sawdust. A very special thanks to Tiaan and Jim. They were very easy to work with and very professional in every way. The pride they display in their quality work will benefit us for years to come.
You are truly blessed with an outstanding office staff as well. Cindy was invaluable n helping us through the process of making selections such as paint, plumbing, electrical lighting fixtures, appliances, kitchen cabinets, counter tops, windows, siding, roofing and door hardware. The list goes on and on. We had no idea there were so many decisions to make in such a short time. We have been extremely pleased with the selections we made and they way it has all come together. Cindy was always on top of everything; generally when we had a question, she was already ahead of us with an answer. In the rare few times she did not, she got an answer right back to us quickly.
There will always be a few items needing attention, as with any major project, once you move in. We had heard horror stories about people building with contractors and once the house was complete not being able to have the punch list worked in a timely fashion. Jennifer and I met with you after we had been in the house a month or so and shared our punch list with you. Your crew was out in a couple of days and knocked out the list in a timely fashion and we immediately began getting calls from a couple of vendor contractors who needed to come back and tweak their install items. Everyone has been responsive and helpful in closing out all aspects of the construction and installation of all appliances and equipment.
Thanks to you, we are confident we have a quality home that will serve us well for many years to come.
After interviewing several builders and with careful prayer regarding who the Lord would lead us to build this special home, we are so very glad He led us to you."
"Our prayer is God will continue to bless your business and your family."
Brad and Jennifer McClam
Winter Springs FL
The Townsend House
"We can't say enough good things about Chad. Construction quality was excellent. And he had some wonderful design ideas, often improving on what we originally thought we wanted. In describing him, however, two words really stand out: trustworthy and ethical. We were living in Florida while he built our home long distance we last saw it during construction seven months before moving in and he did everything he said he would and then some. During this entire period it was obvious that his business ethics were of the highest standard. Overall, it was a real joy to work with him."
Skip and Betsy Townsend
Leesburg FL
The VanderHook House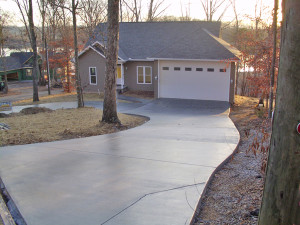 "The first time Jill and I stepped into Gust Construction's office we felt a sense of joy, peace and kindness. When we discussed our plans with Mr. Chad Gust and Cindy Peters the Office Manager, we could tell they valued our words and dreams in building our retirement home. They asked us all kinds of questions, even ones we had not thought of and suggesting items we had not considered, which made our home more functional. Mr. Reynolds our architect from The Drawing Board company was very patient as he worked into our plans the notes and suggestions from our meetings.It took ten months from the time they broke ground to clear our land and to create our custom home filled with all of our desires and wants which was accomplished by high quality workmanship that was clean and orderly. We were confident with Mr. Gust and we knew it would take time to complete the biggest dream of our life. Mr. Gust, his high quality crew, sub-contractors, and office staff created our home better than we had ever expected and on budget, except of course for the changes we added. Since the home has been built we have had a couple of very minor issues come up and they were addressed immediately. Amazing service! They are still there for us today! We highly recommend Gust Construction Company as your next contractor."
Glenn and Jill VanderHook
Severna Park, MD
The Bodary House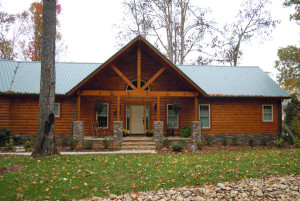 "Thank you for all you have done to make our dream home a reality. You all are truly a "family" and each and every member has welcomed us and put a little of themselves into our home."
"From our first meeting to the beautiful gift basket you gave us we knew we had found the "BEST" group of people to help us. Thanks."
Dan and Kathy Bodary
Grand Blanc, MI
The Ramsey House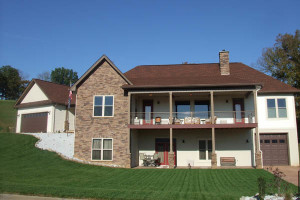 "Five years ago, my wife Rosemarie and I had planned to build our retirement home within the Windswept Community in Morristown, TN. In 1995, Rosemarie and I built a custom home in Ohio so we were already familiar with the total building experience. However, when we selected Gust Construction to build our new home in TN, our expectations were far exceeded in every way. Once we had looked at a number of other builders, and the quality of homes being built, making the decision to select "Gust Construction" was our easiest decision. Gust Construction provided quality in design, reliability and integrity, and quality workmanship of construction in home building in the Morristown area. Additionally, when Rosemarie and I sat down and had a personal interview with Chad Gust and his supporting staff Brad, Cindy, and Jan, we felt that we immediately became part of the Gust Construction family. It was the family environment and professionalism put forth by the Gust Construction Team that made our home building a valued experience, and even at times a fun experience. We felt part of a team through the total building experience. Would Rosemarie and I recommend Gust Construction as the contractor of choice to build our home again or other homes to be built in the future? Definitely, yes! But don't base your decision on our words above, coordinate with Chad and pay us a visit. Rosemarie and I will gladly show you the end result of our experience with Chad and his team."
Dave & Rosemarie Ramsey
Springfield OH
The King House
"Chad is very caring about who he works for. He's real personable with his customers. The quality of work is very good. His crews work fast, but they don't go so fast that it interferes with the quality of their workmanship. They are honest and trusting. They're just good people."
Curt and Connie King
Dola OH
The Jungdahl House
"Having a home built with Gust Construction was a pleasant experience due in part to the professionalism and constant attention to my concerns from Chad Gust… The finished product is a quality home that demonstrates attention to details and pride in workmanship."
Mark D. Jungdahl D.M.D.
Springboro OH
The Elkins House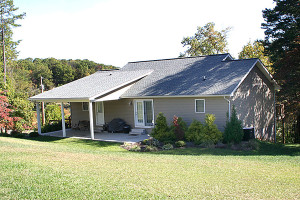 "In the three years (since we moved in) there's never been an issue with the home  — the speaks volumes of the great work and quality you build into a home! God Bless, and thank you".
Dave and Connie Elkins
Terre Haute IN
The Moody House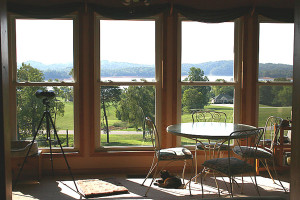 "Chad is fantastic to work with. He's detail oriented and very driven to please the customer. I can't recommend him highly enough."
Richard and Judy Moody
Bedford TX
The Siemson House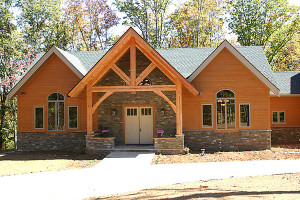 "When we retired in 2007, our dreams became a reality when we moved to Tennessee to begin to build our new home. We researched a number of builders, and Gust Construction was the builder that we chose. We were not disappointed. Chad and his team displayed the professionalism and workmanship that both my wife and I expected. Building a new home can be very stressful. Having Chad as our General Contractor lessened that stress because he gave us the confidence to trust in him that he would do the job and do it right. We would strongly recommend the Gust Construction team when anyone is in the market for building a new home."
Craig and Cathy Siemsen
Kingwood TX
Gust Construction, LLC
379 Highway 25E
Bean Station, TN 37708
(800) 789-7973
(865) 993-1222



For all your Construction needs
'Make the dream happen today'